WordPress sites are attacked more than any other site. Why? Because WordPress is the launching pad for more websites than any other professional Content Management System. According to our research more than 30,000 new websites are hacked each day. This doesn't mean you're always at risk. Great Lakes Web Design of Midland, MI takes great care and pride ensuring your site is always secure and always backed up.
A website with weak or outdated security can pose a great deal of damage and embarrassment to your business. Imagine giving your customers a virus or malware simply by them visiting your site.  To protect your site we vigorously research and test the latest plugins and techniques to plug up all the vulnerabilities.
Our flagship product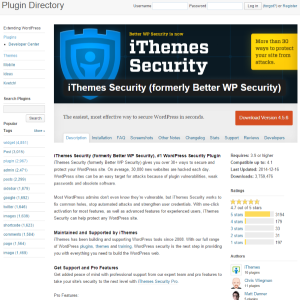 iThemes Security touts itself as the #1 security plugin for WordPress. Big claim, but with over 30 features to protect your site, iThemes puts its money where its mouth is. And users agree, giving it a rating of 4.7 out of 5 with downloads approaching 4 million.
Every single web site Great Lakes Web Design of Midland, MI develops gets a copy of this plugin to prevent 98% of all attacks on the internet.
Get your site together.